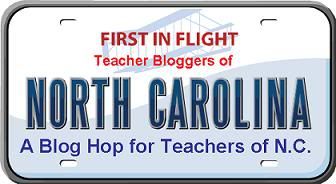 Alright blogging friends, I know you are out there! If you are a blogger in North Carolina make your next post an advertisement for this blog hop. We want to make a network of all the NC teaching bloggers around the state. Copy the image above, be sure to stick it at the top of your next post and link it back to this blog hop so we can find everyone. If your NOT a North Carolina blogger but would love to help us out, please share this blog hop on your blog as well. Make sure you include your location in the comments section of this post! Let's start planning a blog party/meet-up for summer 2014!
I just added a page (link at the top of my blog) showcasing all blogs published by North Carolina teachers. I will post the location of each blogger if and when you want to share:) Of course I do understand that some of us blogging junkies prefer to be anonymous!:)
This is a blog hop and has been linked up to the Teaching Blog Addict's Ultimate Linky Party!
get the InLinkz code