I am joining the blog hop going on at
Fierce in Fourth
! Moving to a new grade level and a new school was apparently exactly what the doctor ordered because I have spent more time thinking and planning things for the school year this summer than ever before (with the exception of my very first year of teaching!) I am also more excited about teaching than I have been in a very long time which is saying a lot because I have always loved my job and will miss my firsties in a big way! So I have a lot to be jittery about but here are my top 3:
1. Whole Brain Teaching. I don't know any other teacher in my county who uses this (although I am sure there has to be at least one person). I am so nervous that everyone in my school will think I am a nut and that I will quickly earn the reputation for being the annoying and overly-excited new girl.
2. Who am I going to sit by at lunch on the first day of school? Yep, not much changes from the time you're a kiddo...what if the teacher table is full by the time I get there and I have to sit all by myself?
3. Crying kids and moms. I haven't had to deal with that in a long time. What am I going to do?
So many more but I'll stop here:) I am just so glad to have all you fellow bloggers for support, it's like the biggest and best collaborative team EVER!!! Click on the image above to join this blog hop!
I am also headed over to this awesome teaching blog:
to join in on her
$25 itunes giftcard giveaway
. I would be so excited to win!
But wait...there's ANOTHER amazing giveaway at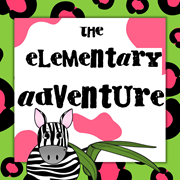 for an awesome and super exciting $25 dollar giveaway for TPT!!! I was so happy to find this blog, not just because she is having this great giveaway but also because she has some of the the cutest things that will go great with my monkey theme!
I probably won't win either of these because I have the most horrible track record with raffle-related prizes but hey...it's worth a shot right??? Keeping my fingers crossed:)